Isabella reporting,
Last week I saw a wonderful show of 18thc portraits at the Metropolitan Museum of Art, an exhibition devoted to the work of a single, highly successful artist. Such an exhibition would be common enough if the artist were Sir Joshua Reynolds, Thomas Gainsborough, Jean-Honoré Fragonard, or any of the other prominent male painters of the era. But what made this exhibition unusual was that the featured artist was a woman - Élisabeth Vigée Le Brun – and that despite her talent and success, this is the first retrospective of her work in modern times.
Vigée Le Brun: An Artist in Revolutionary France
(on view now through May 15, 2016
)
includes more than 75 of the artist's works. Included are the portraits that made her one of the most important artists of her time. Born into a family of artists, she was painting professionally as a teenager; only her marriage at twenty-one in 1776 to the leading art dealer in Paris kept her from being accepted into the Académie Royale de Peinture et de Sculpture.
However, Mme. Vigée Le Brun's work had already attracted the attention of Queen Marie Antoinette. She painted her first official portrait of the queen in 1778, and as court painter, she went on to paint more than thirty more of Marie Antoinette and the royal family. With the queen's patronage - and pressure - Mme. Vigée Le Brun was finally admitted to the Académie in 1783, where she was one of only four women members. Her portraits became in great demand at the French court, and she painted both celebrated beauties and powerful nobles.
But as revolution loomed, the queen's patronage proved more of a danger than a benefit. To avoid arrest, Mme. Vigée Le Brun fled France with her young daughter Julie (she had separated from her husband) in 1789, and took her talents to other cities and royal courts across Europe. It was a perilous time for travel, especially for a woman, yet Mme. Vigée Le Brun's commissions led her to Florence, Naples, Vienna, Berlin, London, and St. Petersburg. As the political climate again changed in Paris, she was finally permitted to return to France during the reign of Napoleon I. Although her style gradually fell from artistic fashion, she continued painting until her death in Paris in 1842.
Her memoirs, first published in 1835, are often quoted in the captions of the Met's exhibition. Not only do they reveal her talent for maneuvering through the Parisian art world, but also show an equally important skill for a portraitist: the ability always to find something favorable to say about her sitters.
Her sensitivity and sympathy show in her portraits, and it's much of what makes them still so appealing today. I've chosen to illustrate this post with a selection of Mme. Vigée Le Brun's self-portraits, and she presents herself not only as an attractive, successful woman, but also as an approachable and charming one, her lips always slightly parted in a smile. Sitting for her must have been a pleasure in every sense.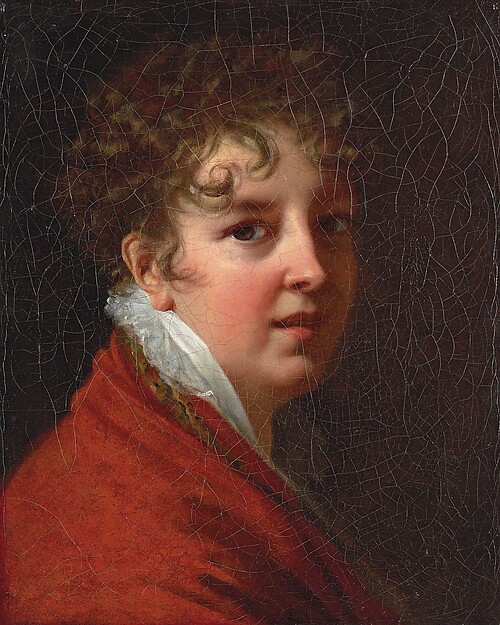 While I know most of you won't be able to travel to New York to see the exhibition in person (and I share your pain every time I hear of a must-see show in London or Los Angeles!), the Met has generously put all eighty works on line
here
.
Above left: Self-Portrait with Cerise Ribbons by Élisabeth Vigée Le Brun, c1782, Kimbell Art Museum.
Right: Self-Portrait by Élisabeth Vigée Le Brun, 1790, Gallerie degli Uffizi.
Lower left: Self-Portrait by Élisabeth Vigée Le Brun, c1808, private collection